5/6 – What's Next

Hey, Happy Monday! Hope you have a great week.
I started daily blogging on February 24, 2016. My current "streak" is now at 1167 days in a row. Fun to look back on my first essay ever (from 2016).
This is my fifth time starting a blog — Yep, I've failed four times before this one. But I think this time is going to be different. I am writing daily to refine my thoughts and become a better storyteller. The truth is that I have virtually nothing to lose. Who is going to be reading this ?

"The best time to plant a tree was 20 years ago. The second best time is now."
Enjoy the newsletter, email me if I can be helpful: jordangonen1@gmail.com
---
Articles to Read.
How to Read More Books in the Golden Age of Content (30 minute video)
—
Career advice I wish I'd been given when I was young
Don't focus too much on long-term plans. Focus on interesting projects and you'll build a resumé that stands out — take on multiple part-time consultancies and volunteer projects in parallel to quickly build it out. Back in my 30s, most of the things on my resumé were projects that involved 10% of my time each, and about half of them didn't pay me any money. Those projects sounded fancy and helped me to get good full-time jobs later on.
Don't over-optimise things that aren't your top priority. I try to avoid the time and anxiety associated with over-optimising. For most decisions I just use satisficing heuristics — is this action sufficient to meet a project's primary goal? Unless it's a highly consequential and irreversible decision, I don't spend much time thinking about it.
Find the biographies of people whose job you'd like to have, and figure out how they got there. You can potentially try to reverse engineer their career path.
—
The making of Amazon Prime, the internet's most successful and devastating membership program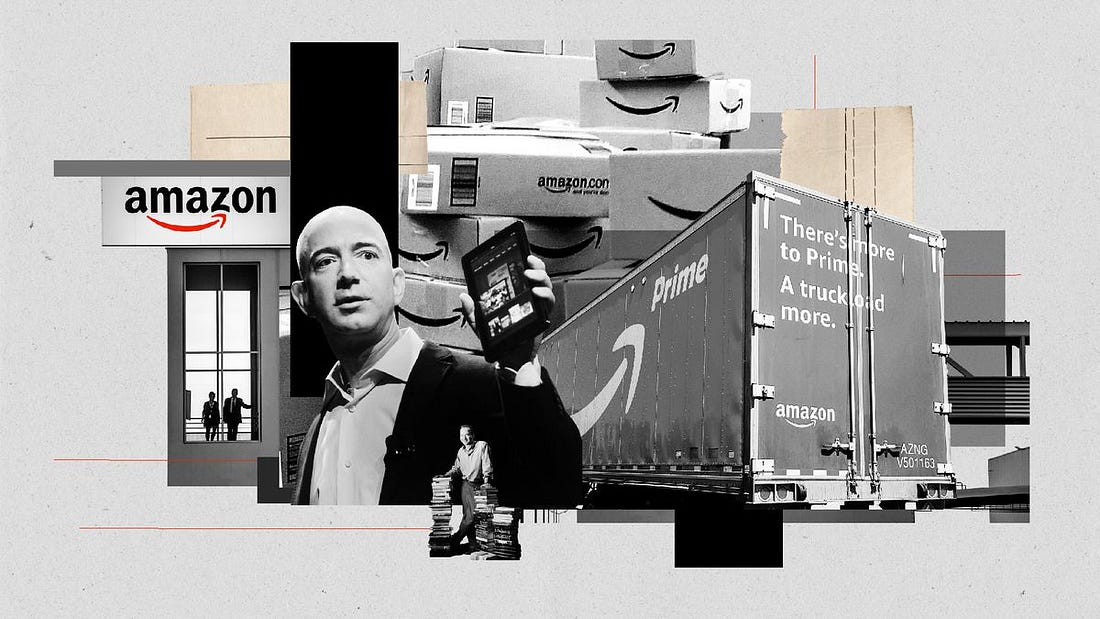 An oral history of the subscription service that changed online shopping forever.
It's easy to forget now, but Amazon wasn't always the king of online shopping. In the fall of 2004, Jeff Bezos's company was still mostly selling just books and DVDs. That same year, Amazon was under siege from multiple sides.
Amazon was worth $18 billion at the time. Its online rival eBay, on the other hand, was an internet darling worth nearly $33 billion. If you were an outsider to both companies and you had to pick one as the future Everything Store, it might have been hard to imagine Amazon as the victor.
—
"A lot of success in life and business comes from knowing what you want to avoid: early death, a bad marriage, etc."
"How could economics not be behavioral? If it isn't behavioral, what the hell is it?"
"Warren and I avoid doing anything that someone else at Berkshire can do better. You don't really have a competency if you don't know the edge of it."
—
For science, profit, and pride, China, the U.S., and private companies are hunting for resources on the lunar surface.
Hapke recalls being told by several scientists and nasa employees that, "when the moon landing was first conceived, it was a strictly political stunt: go to the moon, plant the flag, and come back to Earth." The original design of the spacecraft allotted little to no room for scientific payloads. "When the scientific community got wind of this, they pointed out strongly to nasa all the fantastic science that could be done, and the whole tone of the project was changed," he said. Hapke was then at Cornell, where he and his lab mates studied what the lunar soil might be like; the moon's characteristic reflectivity helped them deduce that the surface must be a fine dust. For Hapke, the Apollo era remains the most exciting time in his scientific life. He also recalls "the widespread puzzlement in both Congress and the general populace after the first landing: 'We beat the Russians. Why are we going back?' "
—
Robocaller 'Will' really wants to buy your Philly home. Here's what happened when we called him back.
Our quest was a case study in how difficult it is to track down robocallers, who can cheaply and anonymously place calls using new technology. Americans received a record 5.2 billion robocalls in March, up from 3.2 billion the year before, according to estimates from YouMail, a robocall blocking software company. There were 88 million in Philadelphia last month.
—
The productivity pit: how Slack is ruining work
Job software like Teams, Slack, and Workplace were supposed to make us more productive. They haven't.
"The average interaction worker spends an estimated 28 percent of the workweek managing email and nearly 20 percent looking for internal information or tracking down colleagues who can help with specific tasks," according to the study. McKinsey figured people would be able to more easily and quickly accomplish these task using new workplace software.
On average, employees at large companies are each sending more than 200 Slack messages per week, according to Time Is Ltd., a productivity-analytics company that taps into workplace programs — including Slack, calendar apps, and the Office Suite — in order to give companies recommendations on how to be more productive. Power users sending out more than 1,000 messages per day are "not an exception."
┄
More to Check Out:
– My 2018 Year in Review
– We All Work for Facebook
– The Complete Paypal Stock History
– Betting on Things That Never Change
– Google Maps Is Ready to Transform the World of Superapps
---
Books I Read This Week.
FAQ: I read to explore my curiosity (and lately, I have been reading a lot)
Here is my 2019 bookshelf
Malign Velocities: Accelerationism and Capitalism: "We are told our lives are too fast, subject to the demand that we consume more That's one familiar story. Another, stranger, story is told here: of those who think we haven't gone fast enough."
The Millionaire Next Door: The Surprising Secrets of America's Wealthy: A bit dated, but some lessons still apply. The "typical millionaire" does not fit the persona you would expect.
Let me know if you have/need any recommendations!
---
My Update.
I have my final final exam ever this week. Almost done with college, hard to believe, but at the same time very excited.
This summer is going to be amazing. So so much to do!
Was in Mountain View last week, now back in STL. I am going to Portugal at the end of May. Do you have any recommendations? Please let me know!
Thanks so much for reading! Find me on twitter : )